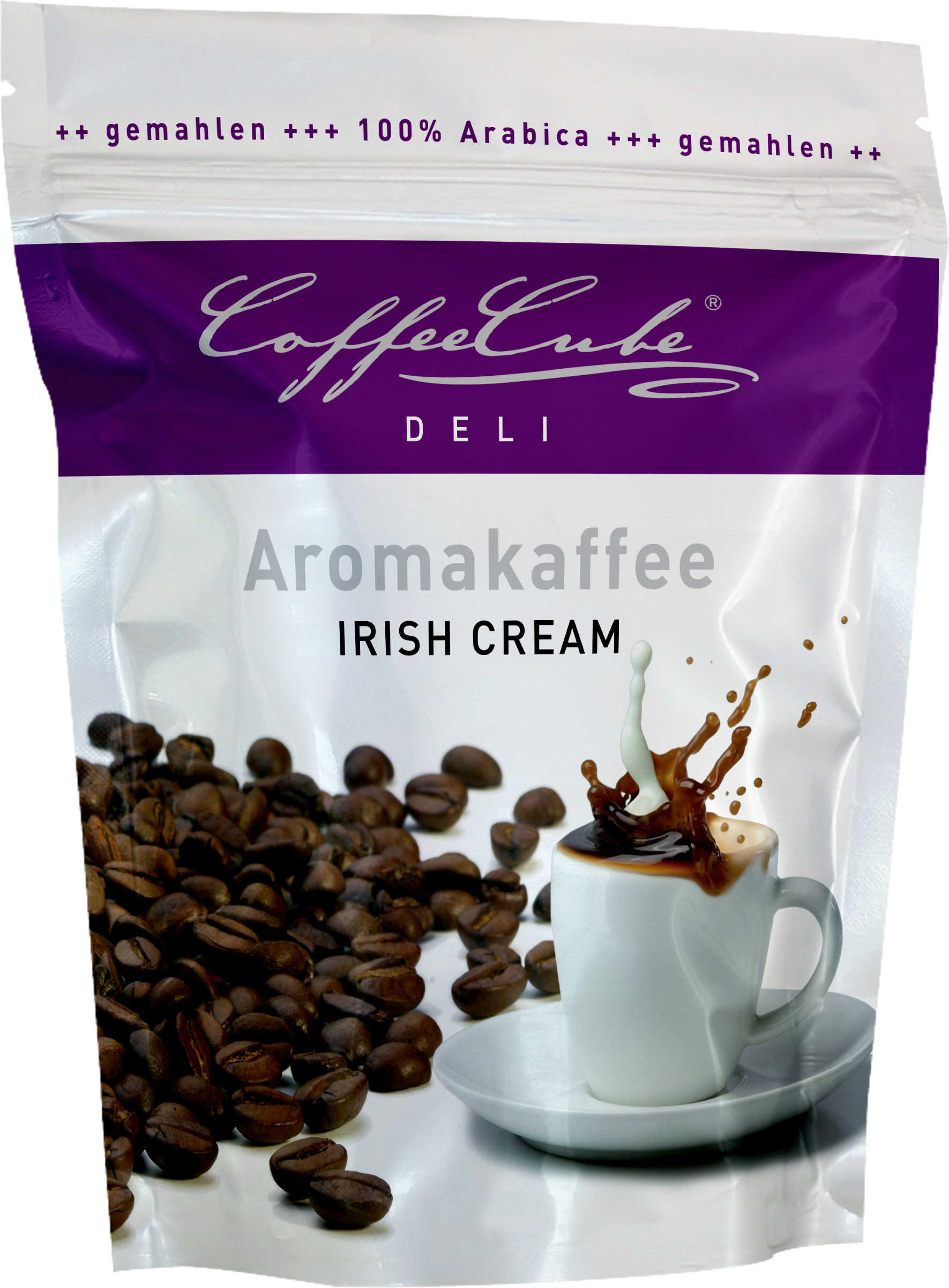 Welcome to www.standuppouches.com, the leading manufacturer of coffee bags since the year 1980. Currently, we are the largest stock holder and manufacturer of both unprinted and custom-made printed coffee bags. We can readily supply coffee bags wholesale for home businesses and large companies.
A third of the world's population comprises of coffee drinkers, which would readily give an idea about the demand of coffee worldwide. As a result, there is a huge demand of coffee bags as well. Proper coffee packaging is critical for coffee to maintain its freshness, aroma and taste. The best quality coffee could be marred if it is not properly packaged. For this purpose, there are different kinds of coffee bags and stand up pouches being manufactured these days, to especially preserve the quality of coffee beans and ground coffee.
We manufacture an array of coffee bags in different sizes and colours according to the requirement and budget of the client. We utilize the latest equipment to create stunning and attractive printed bags for custom orders. We specialize in unprinted bags, tin tie bags, burlap coffee bags, paper coffee bags, and coffee bags with valves.
Tin tie bags are a hot favourite amongst the coffee sellers these days, because of their versatility and ability to keep the coffee fresh for long duration, regardless of the weather condition. Coffee sellers used to sell loose coffee to the customers, but with the ease of availability of these bags, one can order the required number of bags and we will supply them as soon as possible. Unprinted coffee bags with resealable zipper are available in numerous colours like white, brown, silver, black, red and several others. A minimum of 2000 bags can be ordered from Stand Up Pouches. Also, rest assured that these bags will not prove heavy on your pocket. We believe in providing the highest quality products at the best possible price to our clients.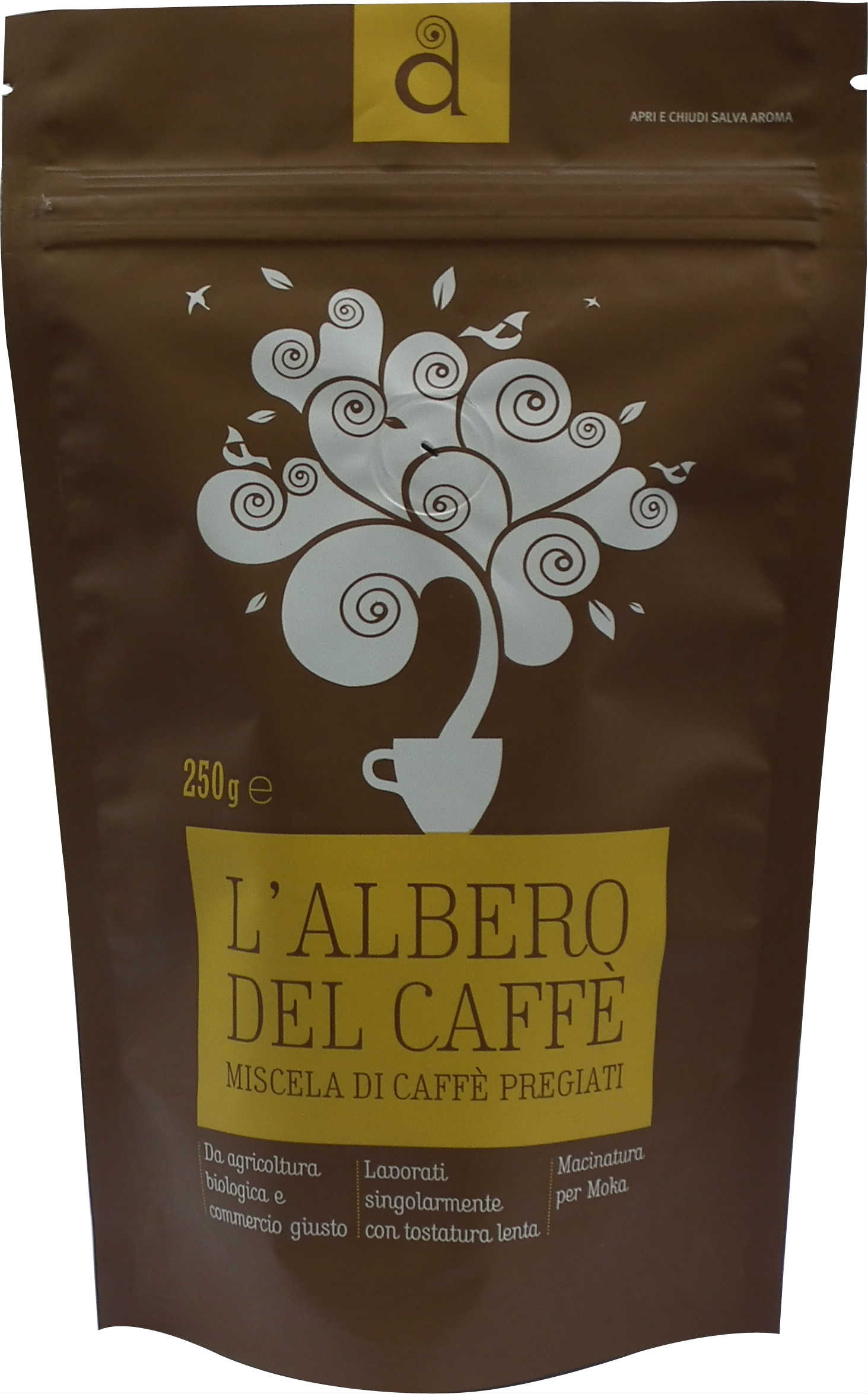 Another type of coffee bag that can be purchased from us is the burlap coffee bag. It is one of the most popular choices of coffee suppliers as well as coffee lovers. They are highly durable and can be used for not only storing coffee but also for packaging other gift items, hot cocoa, cappuccino mixture, spices and nuts. Burlap coffee bags having a capacity from half pound to 5 pounds can be purchased from Stand Up Pouches. Paper coffee bags with valves are utilized by companies for coffee packaging and our firm is an expert in such bags. We understand the demand of the client, and utilizing our knowledge of film structures, we create coffee bags with recommended material to protect the coffee from moisture while providing high consumer appeal at the same time. We have a line up of coffee bags valve available to be shipped immediately and we also deal with custom printing of valve paper coffee bags in both small and large quantities.
We use materials like aluminium foil lamination, degassing valves, bended barrier films and metalized films for packaging of ground coffee, green coffee beans and dark roasted coffee. We offer both flexographic and rotogravure printing depending on the design requirements of the client. These bags give the opportunity to the coffee suppliers to make their product stand out from the rest.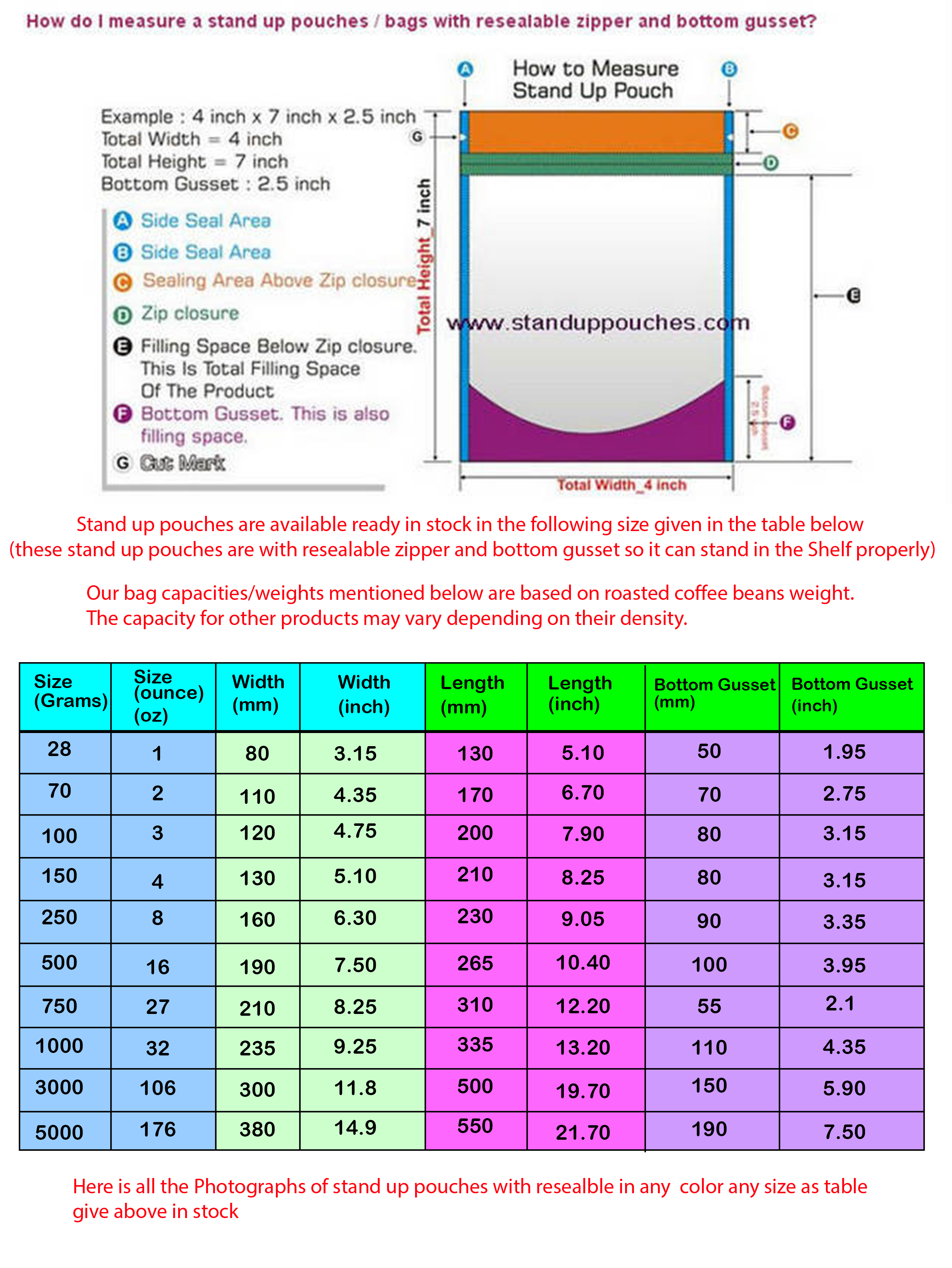 Oval window pouches
---
---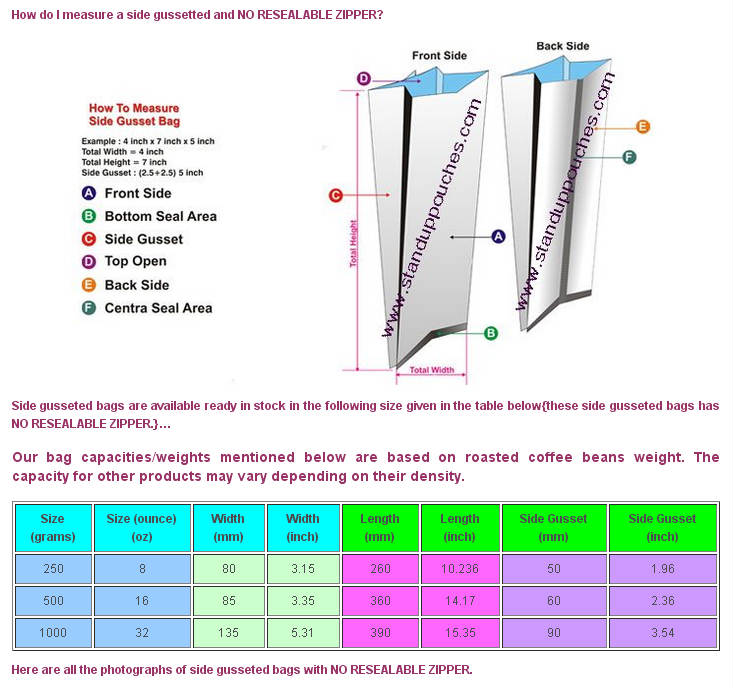 ---
Matt Black

Shiny Gold

Matt Silver

Shiny White

Brown Paper bags

Brown paper bags

Side Gusset Bags With Valve