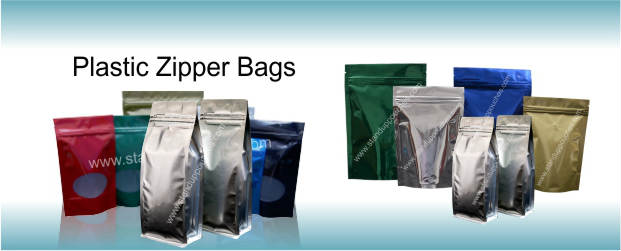 Plastic zipper bags are the latest trend in packaging. They are gaining high popularity among users because of their convenient use and easy handling. The zipper allows you to contain your contents into it as long as possible. We started manufacturing plastic zipper in 1980 and since then we have done our very best to provide our customers with zipper profiles that would satisfy their overall requirements. We are in this business from three decades now and not once have we failed to stand up to the expectations of our customers or disappointed them in any other way. We assure you that you will get your ordered products within duration of seven days as we have tie ups with some of the best and world class courier services like DHL and FedEx. You will find all kind of plastic zippers here. PE zippers, PP zippers, retort zippers, and much more, you will find everything that you need here. Our zipper bags are of high quality and do not fail your expectations in any way.
You will be at a liberty to choose any plastic zipper bag that you want that too at variety of sizes, colors and shapes. You will find bags according to your size requirements. We offer you bags that have weighing capacities ranging from 70 grams to 2 kilograms. Also we offer you both printable and non printable bags, you can choose one which is most suitable for you. The zipper strip is strong and durable enough to seal off any contact with outside air and environment. This is helpful for packing food items or other perishable items which need to be kept in air tight bags to prevent any kind of contamination due to contact with air and interaction with environmental oxygen. PE zippers are nylon blended while PP zippers are simple polypropylene zippers. It's your choice that which one will you choose for your packaging.
Packaging is a rapidly growing industry as various business are looking for cost effective and efficient means of packing that would not only serve the purpose of packaging but would also attract customers and prove to be convenient and easy for them. Zipper plastic bags are an aim at a kind of packaging, which has been introduced by keeping in mind the needs and requirements of the customers.
Now a few application areas of plastic zippers include, food packaging, pet food, bread packaging, dried fruits packaging, confectionary packaging, frozen meat packaging, frozen food packaging, sea food packaging, rice packaging, biscuit packaging, coffee beans or tea leaves packaging and much more. Non food items are also included in it like fertilizers, minerals, manure, cement, plaster of Paris, etc. We thereby bring to multitude of packaging systems which will fulfill packaging requirements for almost any kind of process. Moreover, we provide you our packaging products at highly reasonable prices. All types of new age packaging requirements of any business can be made available by us. We are only a click away. Order your packaging products now.