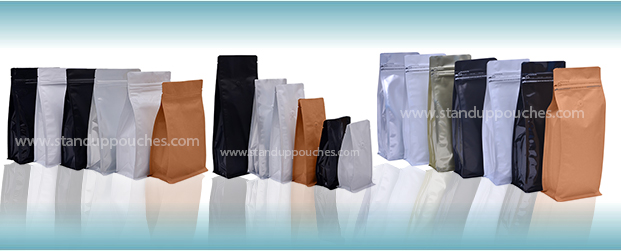 Flat bottom pouches are becoming very popular because they are attractive and flexible. This type of packaging is also known as bag brick.
Flat bottom pouch we provide are flexible packages that encourage consumers to buy your product. With its unique and striking design, the stand up pouch becomes a marketing tool towards your product. The flat bottom bag, box pouch, block bottom pouch has substantially the shape of a carton .
We use the technique of rotogravure printing up to 9 colors. This technique is comparable to digital printing photos. We offer up pouches and plastic material High Tech paper. The pouches are produced through three 3 layers . Each layer thickness is different depending on the properties and dimensions desired by the customer .
We offer these types of flat bottom pouch with zipper, box pouch with pocket zipper , so it will be possible to close the pouch after first opening. On request, we can provide you with box pouch with valve or with an opening slot.
pouches in stock: The block bottom pouch are available in metal layer provides excellent protection for your product against the various influences. Available sizes are: 250, 500 and 1000g. Available colors in stock are brilliant white, gloss black, matte black and kraft.
Custom printing (on order): We do print pouches up to 9 colors rotogravure suit your needs. Packaging is an important tool in the marketing plan, the ideal way to attract and captivate the attention of your customers.
TECHNICAL ASPECT :
Our packaging is made up of different layers of material to protect your product and keep its freshness.
Plastic packaging material is the first packaging in terms of consumer sales units worldwide family. This family is composed of 17several types of materials that have different characteristics and applications and complementary. These plastics can be either in a "rigid" screen (box of butter, yoghurt pot, water bottle ...)
Please find below the different types of materials we use for the production of flat bottom pouch:
Also known as Polythene belongs to the family of polyolefins. It is the most popular film in the field of packaging and occupies between 70 % to 80 % of the plastic film market . The EP is available in the forms LDPE (low density polyethylene) and HDPE (high density polyethylene). The first form makes it suitable for many products such as shopping bags, carrier bags , stretch film , packaging for frozen foods and fresh produce , meat and poultry. As to the second, more rigid , it replaces more LDPE for promotional bags and shopping bags. Polyethylene is the material used to be mainly in contact with the food contained in the multilayer plastic packaging. Demand for polyethylene continues to grow and this significantly. The main cause of its appeal lies in its price much lower than almost all other plastics products.
The PP film is very suitable for printing, coating and metallizing. It replaces the paper, the PE and PET and other film products, it is often used in plastic woven bags. The PE offers strength and durability of packages, and it makes the packaging puncture resistant.
polyethylene terephthalate or polyester is mainly used as backing material on which another film is coated or coextruded. This material is used increasingly to replace glass containers such as bottled water, soda, pot dry fruit ...
PET provides strength to the packaging and heat resistance. It also provides a waterproof odors, gases and moisture, and a wide possibility in shapes, colors and sizes.
During production, we combine the advantages of different materials to obtain a stronger or more waterproof product. The combination possibilities and applications are endless. We also add thin layers of aluminum to make your products more impervious to odors, light, oil, gas and moisture.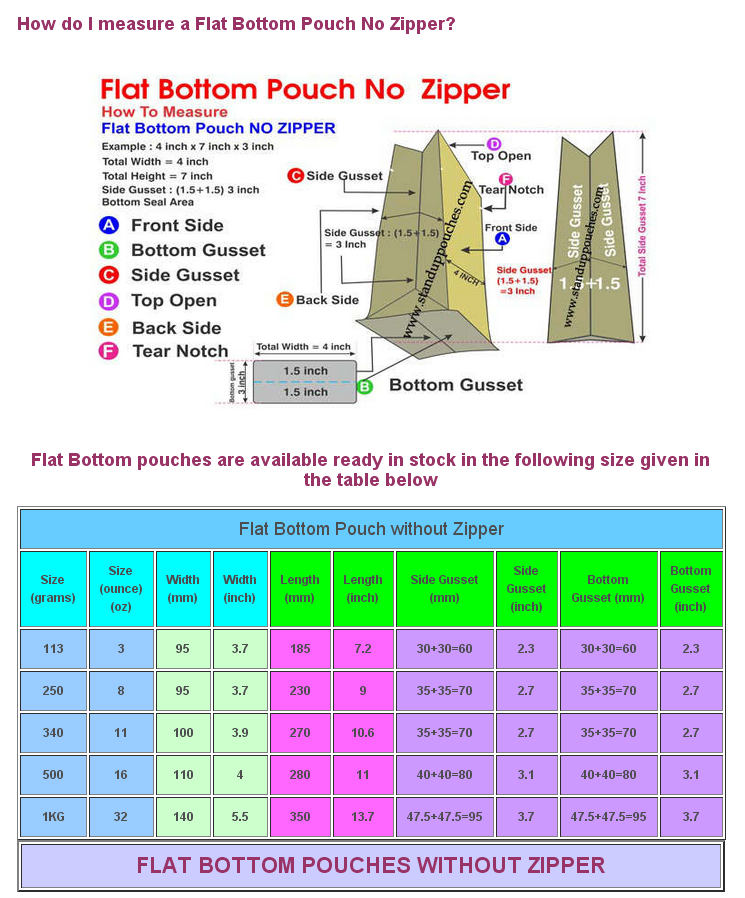 Kraft Paper Bags
without Zipper
Matt White Bags
Without zipper
Matt Silver
Without zipper
Shiny Black
Without zipper
---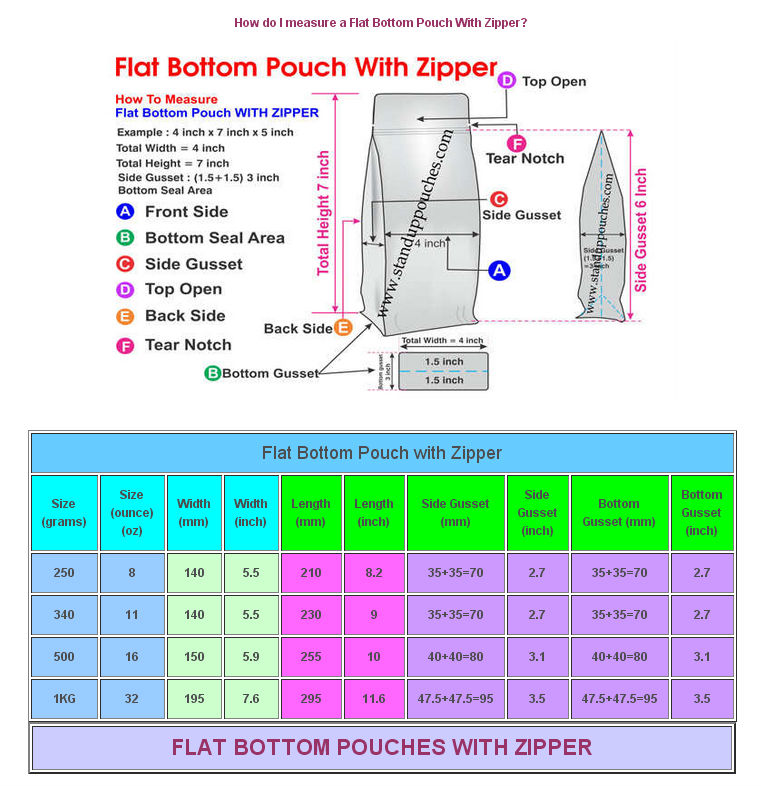 Kraft Paper
Bags with zipper
Matt White
with Zipper
Shiny Silver
with Zipper
Shiny Black
with zipper
---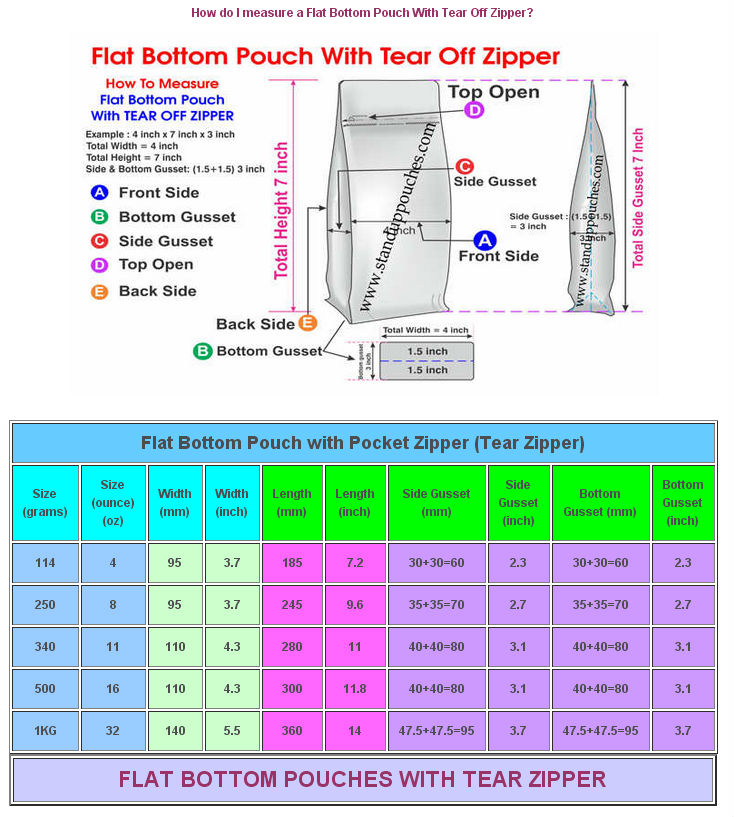 Matt Silver with Tear Zipper

Matt White with

Tear Zipper

Shiny Black with

Tear Zipper

Kraft Paper With Tear Zipper
Matt Gold With Tear Zipper